I'm very proud of two of my family members, my younger daughter, Lionilde-Claire and my granddaughter, who is ten years old.  Here follows an article to show why I feel the way I do .

Cutting our Hair
Donating our Hair for Little Princess Trust to make real hair wigs for children with cancer.
My daughter, Lionilde's request
Please support Lalitah, my 10 year old niece who has finally decided to cut her hair for a good cause!  She has the most beautiful, thick, silky black hair and has had nothing more than a trim for the last 10 years. With just over 36 inches she hopes her hair will make a beautiful wig for a child who has lost their own hair due to cancer.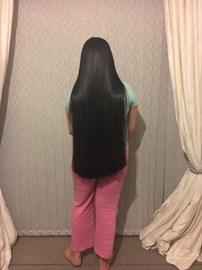 I'll be cutting my hair too to support her in this big step, (I only have 26 inches 🙂 )
Please show your support by donating through our page directly to The Little Princess Trust.
Thank you!
Lionilde-Claire
About the charity

Little Princess Trust provides real-hair wigs, free of charge, to boys and girls that have lost their own hair through cancer treatment and other illnesses. Please visit us at http://www.littleprincesses.org.uk to find out how we have given away nearly 5,000 free wigs. Please help us to give more.
Charity Registration No. 1113172

Thank you for popping in.  Should you wish to make a small donation, I can assure you that your money will be used wisely.  Please click on any of the links here to gain direct access to the site.  I'll update you when the time comes for the hair cutting!
https://www.justgiving.com/fundraising/LiandLalitahsnewdos?utm_source=Facebook&utm_medium=fundraisingpage&utm_content=LiandLalitahsnewd
Should you wish to leave a comment, please do so at the bottom of this page.  Thank you!  All the best, Maretha